In case you haven't heard: Darci of
Stitches and Scissors
is having a giveaway! This extremely talented and creative blogger is celebrating two great things - her 10 year anniversary (yay for them!) and the grand opening of her new
Etsy shop
.
The winner of the giveaway will win something handmade especially for them from a selection of fabrics. What a great prize!
So
head on over
, say hello, give her a nice warm internet hug and try to win yourself something!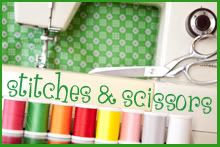 P.S. I think I may start posting about other people's giveaways as a regular thing. Isn't it nice to hear about other giveaways and discover new blogs? Is that something you guys would be interested in? Let me know!